Reclaimed Lumber and Beams is a fun client to work with because, quite frankly, I want to personally purchase almost everything they sell. Partnering with this business on social & design projects means looking through photo after photo of gorgeous, hand-crafted wooden furniture and home installations.
Today's Client Spotlight is a look at the warm, visual social presence we've created for RLB.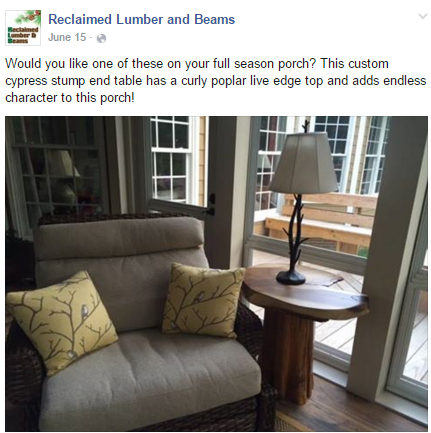 Who They Are: A North Carolina-based business with a big national footprint, integrating reclaimed wood/antique lumber from the Appalachian mountains into residential and commercial construction (think: everything from rustic mantles, doors and tables to barnwood siding and flooring).
What They Needed: RLB draws clients from all over the U.S., so they needed social that could reach wide and convert to sales, while still maintaining a personal, small-business feel.
What We Delivered: The Reclaimed Lumber and Beams Facebook page is warm, conversational, and heavy on photography -- giving potential customers a glimpse of the wide variety of projects RLB could create for their home, office, or venue. Q&As and behind-the-scenes content keep followers engaged, and links drive them back to the RLB website. This is retail, but it's not big-box -- projects are personalized and driven by the customer. Glimpses of previous projects get those ideas moving for soon-to-be clients.
The takeaway? Every business has a personality, and its social presence should match up with it. A cool, detached tone works for some businesses, but that's not the personality RLB needed to project online.
What personality are you cultivating for your business or organization on social media? If you have questions, I'd love to talk.